Art Instruction DVDs | Art Instruction Books | Schedule | Testimonials
Watercolor, Charcoal, Drawing & Acrylic Painting Classes
with E.J. Gold
GRASS VALLEY, CALIFORNIA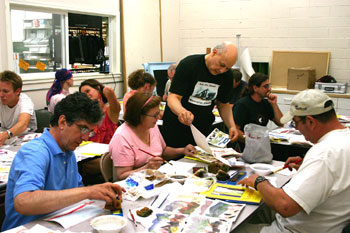 Master Artist E.J. Gold is offering watercolor, drawing, charcoal and acrylic painting classes in Grass Valley, California, at Ben Franklin Crafts. The two-hour classes are open to all skill levels and are small, allowing for much personal attention and instruction.
This just in, from Neville Throckmorton, CEO of FireCode, Inc., Sacramento, CA: "Hi, I wanted you guys to know how excited I am about the ... drawing workshop. I had a great breakthrough after using E.J.'s Draw Good Now workbook for only a few days. I suddenly was able to see the outline of an image in the doodling and the figure came to life as I gave it volume by creating the various planes with shading as we were shown. I've never been able to draw at all. Last night I discovered how similar drawing is to sculpting as I "carved into" the paper with my pencil, creating a three dimensional relief. This is one of the most powerful exercises I've seen. Thanks E.J.!"
Click here to see many more testimonials from E.J. Gold's art students.
Folks from all over are coming in for a week or two of art classes with Mr. Gold. It was "an incredible, energy-charged, fun adventure," said Tom Schoeller of Nelson, British Columbia, of his 17 day visit. "This was a fantastic opportunity to work under unique conditions created for us by E.J. Would not have missed it for anything."

E.J. Gold's Watercolor Class shows off its work.
Classes are scheduled at Ben Franklin Crafts, 598 Sutton Way, Grass Valley. Tuition is $15 per class plus materials, with Ben Franklin throwing in a 10% off coupon on the supplies. Pre-registration is advisable. The class will be given a tour to help select supplies. Call Ben Franklin Crafts directly to register at 530-273-1348.
DAYS
TIMES
LOCATION
INFO & Registration
Fridays
PAINTING, DRAWING, CHARCOAL & SCULPTURE
April 30
May 7, 14, 21, 28
June 4, 11, 18, 25
July 2, 9, 16, 23, 30
August 6, 13, 20, 27
September 3, 10, 17, 24
October 1, 8, 15, 22, 29
November 5, 12, 19, 26
December 3, 10, 17, 24

10 a.m. to 12 noon
Ben Franklin
598 Sutton Way
Grass Valley, CA

Call 530-273-1348
or HEI at 530-271-2239 or contact us
Gold has been selected as the official artist of the International Association for Jazz Education (IAJE), most recently exhibiting in Toronto in 2008. His work is in the Smithsonian: his portrait of Herbie Hancock is in the permanent collection of the National Museum of American History. He joined Zoe Alowan, S.L. Boyd, Kelly Rivera, Douglass-Truth and other artists in a Group Show to celebrate the Grand Opening of San Francisco's Jazz Heritage Center with Yoshi's Jazz Club in the Fillmore District of San Francisco.

Asked why he's doing these classes, Gold stated: "It's to honor the memory of the great teachers who taught me and to pay back by passing what I learned on to others, so their contributions to the art world will live on."

For more information about the artist and his work, click here or call 530-271-2239.
ONLINE INSTRUCTION
ART INSTRUCTION DVDs are available by E.J. Gold on an increasing catalog of subjects. Also, students are welcome to schedule individual visits to the Grass Valley area to study art with Mr. Gold for a weekend or week or more. To inquire about arrangements, contact us.
E.J. Gold is a multi-talented, listed artist whose paintings are in many celebrity collections, have been exhibited in galleries and museums worldwide, served as backdrops for important jazz concerts, and have been published in and on books and magazines. His portrait of Herbie Hancock resides in the permanent collection of the National Museum of American History. He founded the You Can Paint! system which has inspired lawyers, doctors, engineers, teachers, floatation tank manufacturers and others to become selling artists.